Kayaks
Below are just a few we have available! We have some stock in store and can special order for you as well.
Visit us or call us today and talk with our knowledgeable staff to see which one fits your next adventure best!
ANTIX
| | |
| --- | --- |
| | A new creeking/river running kayak that is fun, easy to paddle, runs the river like a dream but with some groove in the hull design to allow for continual play all the way down! |
Tupelo
Designed for cruising the waterways with comfort and efficiency, with loads of storage and convenient accessories, the Tupelo is your premier, feature laden recreational kayak. Like touring and whitewater kayaks, the Tupelo comes sized for the paddler, with the 12.5 for larger paddlers and the lighter, narrower 12.0 ideal for medium or smaller paddlers. Ideal to match one of each for a couple. Both feature Jackson's removable and super comfy Elite Seat, with adjustable lumbar support. Gear track around the deck allow you to accessorize with RAM products like rod holders, GPS, camera mounts, smart phones and more. Versatility, comfort, ease of use....the Tupelo has it all!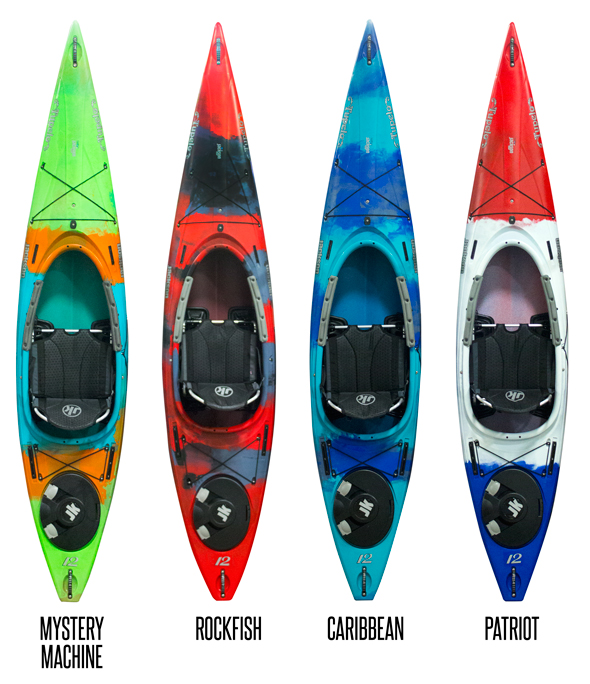 COOSA HD
| | |
| --- | --- |
| This 'heavy duty' fishing craft boasts amped up specs/features and is slightly longer and wider than the original Coosa; this makes it even more stable and a perfect fit for anglers of all sizes or those who are really looking for a stand up fishing kayak. The hull is still river friendly, but the HD will track truer on the flat waters of lakes or inshore saltwater. Packed with features, the Coosa HD is ready for any type of fish on almost any type of water! | |
BIG RIG
| | |
| --- | --- |
| The name of this kayak, Big Rig, sums up exactly what it is intended to do and for whom it was intended to do it for - big stability for the many anglers that deserve a model to help them feel comfortable in a smaller watercraft, and even allow them to stand and fish from one! | |
STANDUP KAYAKS
SUPERNATURAL
| | |
| --- | --- |
| This recreational and touring board is ready for any mission. Its length, width and thickness make it extra stable and great for first timers. Molded-in features as well as aftermarket accessories will allow its owners to fully customize it to their needs. Whether camping, cruising, fishing, hunting or hauling, anything is possible on the SUPerNatural. | |
PADDLE BOARDS
PULSE SUP
| | |
| --- | --- |
| Whether you are riding on flat water, surfing the waves, cruising down the river, or joining your first race, Pulse has a paddle board to fit your needs. Gorgeous epoxy Traditional boards, stable displacement boards, durable Rec Techs for rental fleets, yoga and other tough stuff. And don't forget the inflatables, for those with limited storage or those who want to throw it in the car and go! | |