Uncle Lem's Story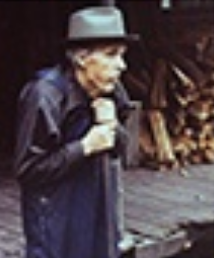 Uncle Lem Ownby was Kevin Hill's great great uncle and the last lifetime leaseholder to reside in the Smoky Mountains.  Lem passed away in the early eighties and was a Legend of the Smokies.  Uncle Lem lived his entire life in Elkmont keeping bees and living off the land.
­­­Our Beginnings


In July 2010, the first location of Uncle Lem's opened in West Knoxville (9715 Kingston Pike) just minutes from where Kevin Hill grew up. In an economic recession, this store was constructed with hard work and determination. Using family barnwood on the walls and fixtures, and tin roof on interior roof sections, the ambience of Uncle Lem's is rugged, classy and unique.
In 2016, recognizing the potential for growth in the up and coming South Knoxville area, Kevin Hill and his business partner, Kendrick Smith, had the vision to occupy a previously rundown and abandoned building as a second store location (1024 Sevier Avenue).
Between 2014 and 2017, Uncle Lem's had been recruited by developers in the Pigeon Forge area on three separate occasions. Kevin and Cheryl Hill decided to investigate the opportunities awaiting them in Pigeon Forge should they lease something separate from the pursuing developers. This led to finding out the City of Pigeon Forge was about to put a lot for sale right on the Parkway in one of the most desirable locations for retail on the entire strip.
Winning a successful bid process with the City of Pigeon Forge, against five other high quality submissions, Uncle Lem's is thrilled to be awarded with this once in a life time opportunity. Owning the land and starting a retail location in the heart of the Smoky Mountains, where Uncle Lem personally called home, was a dream come true!
Coming in 2018 to 2450 Parkway, Pigeon Forge, TN!
Our Namesake
Born in 1889 in the Smoky Mountains, Lemuel "Lem" Ownby became one of the region's most recognized figures. Sight-impaired from an early age, Lem spent his life at one with the land, subsistence farming and tending his beehives.
As the last private property owner in the Smoky Mountain National Park, Lem chose to have a life lease and to remain on his property until he died instead of selling to the government. Staking himself to his remote property, he was dedicated to his love of the great outdoors and his beloved home in its midst.
He was content to be isolated and alone there in the woods, but Lem was frequently visited by people who came to buy his honey, hear his stories and receive his advice. Many came to experience the aura of this mysterious, outdoors-loving man as something about his connection with nature and with God was intriguing.
Lem was fiercely self-reliant --- a simple man, a family man, a beekeeper, and a lover of the outdoors. By the time of his death in 1984 at nearly 95 years of age, he was a local celebrity, albeit a humble one, and recognized as "A Legend of the Smokies."
The ruggedness and independence of Lem resonates with people far and wide. Lem Ownby is the namesake of our local brand as he was the great, great uncle of brothers Kevin and Lee Hill. The brothers, together with Kevin's wife Cheryl, opened Uncle Lem's Outfitters in Knoxville, TN in 2010.
Along with the local community, visitors from world-wide continue to support Uncle Lem's as the brand spans generations and connects to the desire for authenticity, simplicity, and a love for the great outdoors.
Lem became famous for the tales of his simple wisdom and indifference to politicians and Supreme Court Justices who trod up Jake's Creek to meet the mountain sage. Living most of his life blind, Lem became one with his mountain landscape attributing this as the secret to his almost 95 years of vibrant living. Once when asked what he credited his longevity and vitality to, Lem responded, "I lay it up to the honey."
When Lem passed away to the surprise of many he donated his entire life savings to support underprivileged children at the Tennessee Baptist Children's Home. What surprised so many was not Lem's generosity but the size of the contribution that has grown to be a fund currently over $70,000. Years of simple living and selling honey to hikers translated into a blessing for the children Lem and his wife Mimmie were never able to have for themselves.